PRODUCT INFORMATION
SHIPPING
PRODUCT INFORMATION
Chris Keenan
Digital ceramic hand finished and fired in the kiln to cone 5-6 with a satin Oribe Glaze
The Tangent Flow Vase has been my favourite creation to date because of the exploration of evolving natural and symmetrical forms. A challenging shape to produce in clay.  It is large but with it's thin walls, it is rather light.  Beginning with a hexagon shape at the base, it flows into six waves, transitions into the calm of a circle form at the rim.  Between the waves, are imprints of a flower and stem.
SHIPPING
We work with a professional packing company that help us ensure the sensitive, secure, packaging and shipping of artwork safely from our door to yours.
Please let us know if you need an estimate for shipping sculptures or framed artworks internationally.  
Standard rates apply for unframed prints. Track and trace shipment in a tube within New Zealand is $39 and $119 for international destinations.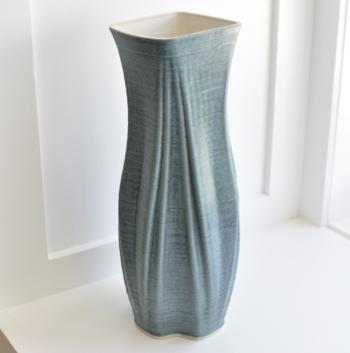 About the Artist
Chris Keenan
See more works by Chris Keenan