Iso Mood IV (Lockdown Series)
PRODUCT INFORMATION
SHIPPING
PRODUCT INFORMATION
Kara Burrowes
reclaimed wood
500 x 520mm
Commissioned for Socially Distanced Yet Creatively Connected, an exhibition in response to the global pandemic and inspired by our collective experience of lockdown.
Artist's statement:
This work is from a series called LOCKDOWN SERIES, created during the unprecedented Covid-19 lockdown of 2020.
With thoughts slowed and headspace created, my mind moved to a blank canvas, a return to basics. The neutrality signifying a de-cluttering of both mind and practice.
Vertical lineage was carried through to wooden works. Wanting to make use of existing reclaimed materials from my garage, I cut and assembled creations using neutral, white tones but accenting with colours seen from the deck of my house every day, in particular, the colours of the sunrises. They are variations of each other, referencing off one another. All of the work created is repetitious and methodical reminiscent of the repetitive thought patterns of my head during this time.
SHIPPING
We work with a professional packing company that help us ensure the sensitive, secure, packaging and shipping of artwork safely from our door to yours.
Please let us know if you need an estimate for shipping sculptures or framed artworks internationally.  
Standard rates apply for unframed prints. Track and trace shipment in a tube within New Zealand is $39 and $119 for international destinations.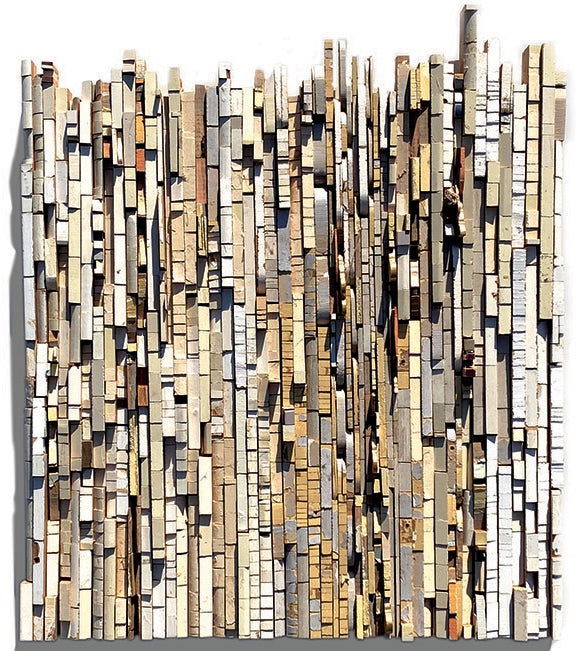 About the Artist
Kara Burrowes
See more works by Kara Burrowes