PRODUCT INFORMATION
SHIPPING
PRODUCT INFORMATION
Sofia Minson
limited edition museum archival print
805 x 500mm
Prints are created by capturing the original painting as a high resolution digital image. They are then printed using lightfast pigments. Every artwork is titled, numbered with it's unique edition number, dated with the year printed and signed by Sofia.
"I drew visual inspiration for this portrait from dozens of black and white 19th and 20th century photographs of Maori. I pieced together her form from my imagination. And she has become something entirely new in the creative process.
After finishing this painting and sitting with her for a while, I realised that she embodied the goddess Hine-nui-te-pō - great woman of the night.
She embodies a loving, eternal, embracing quality. As the mother of the long night she has compassion for all of her children. She embraces them as they cross the threshold between life and death. Between known and unknown dimensions."
SHIPPING
We work with a professional packing company that help us ensure the sensitive, secure, packaging and shipping of artwork safely from our door to yours.
Please let us know if you need an estimate for shipping sculptures or framed artworks internationally.  
Standard rates apply for unframed prints. Track and trace shipment in a tube within New Zealand is $39 and $119 for international destinations.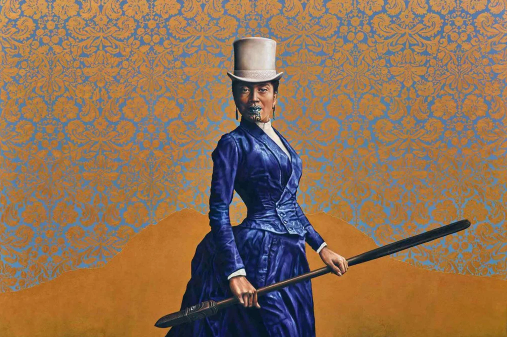 About the Artist
Sofia Minson
See more works by Sofia Minson