Giraffe Comes Into a Better Tomorrow
PRODUCT INFORMATION
SHIPPING
PRODUCT INFORMATION
Gillie and Marc
bronze 
120 x 145 x 850mm (H*L*W) 0.67 kg
Giraffes are some of the most curious creatures out there. With their beautiful long necks, they are an icon of African wildlife. Always imagining they will be around forever, it's hard to believe that their numbers have declined by 30% in only 3 decades. Poaching and the destruction of their habitats have left giraffe numbers to dwindle. As part of the series 'Come out for a better tomorrow', the giraffe cautiously looks out of a manhole, bending its neck backwards to check if it's safe to come out. This sculpture series calls for awareness of our impact on the world and to allow every living creature the right to feel safe and loved.
SHIPPING
We work with a professional packing company that help us ensure the sensitive, secure, packaging and shipping of artwork safely from our door to yours.
Please let us know if you need an estimate for shipping sculptures or framed artworks internationally.  
Standard rates apply for unframed prints. Track and trace shipment in a tube within New Zealand is $39 and $119 for international destinations.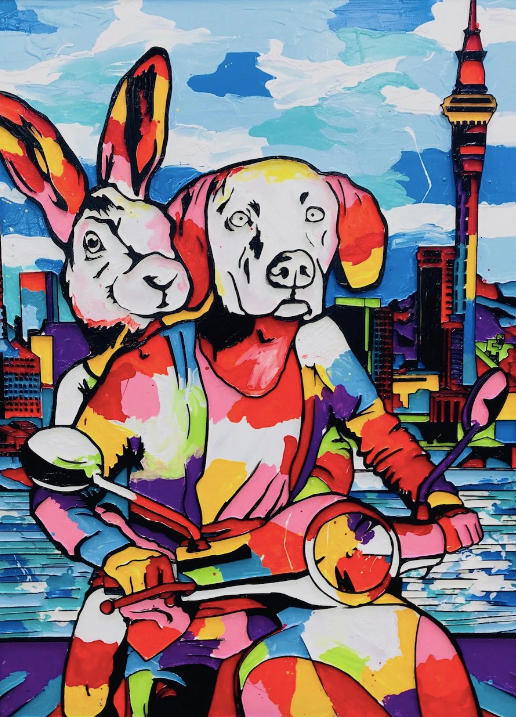 About the Artist
Gillie and Marc
International artists Gillie and Marc are renowned for their public sculpture and beloved characters, Rabbitwoman and Dogman, who tell the autobiographical tale of opposites coming together.
"Gillie and Marc believe art is a powerful platform for change. Their art is multi-disciplinary, paying homage to the importance of togetherness and the natural world."
See more works by Gillie and Marc