They thought at the same time how they were in complete synchronicity (Summer)
PRODUCT INFORMATION
SHIPPING
PRODUCT INFORMATION
Gillie and Marc
limited edition giclée print
525 x 725mm (white frame) 
THIS ART WORK CAN BE VIEWED IN MANGŌNUI AT OUR NEW GALLERY: 88 WATERFRONT ROAD. 
As Rabbitwoman and Dogman paddled around the gentle bays their minds drifted to all sorts of private thoughts. As their attention drew back to each other they were amazed (but really not that surprised) how perfectly in sync they had become. Each stroke was perfectly in time with the others, their boards facing exactly in the same direction. They knew this was another sign of how perfect they were for each other.
SHIPPING
We work with a professional packing company that help us ensure the sensitive, secure, packaging and shipping of artwork safely from our door to yours.
Please let us know if you need an estimate for shipping sculptures or framed artworks internationally.  
Standard rates apply for unframed prints. Track and trace shipment in a tube within New Zealand is $39 and $119 for international destinations.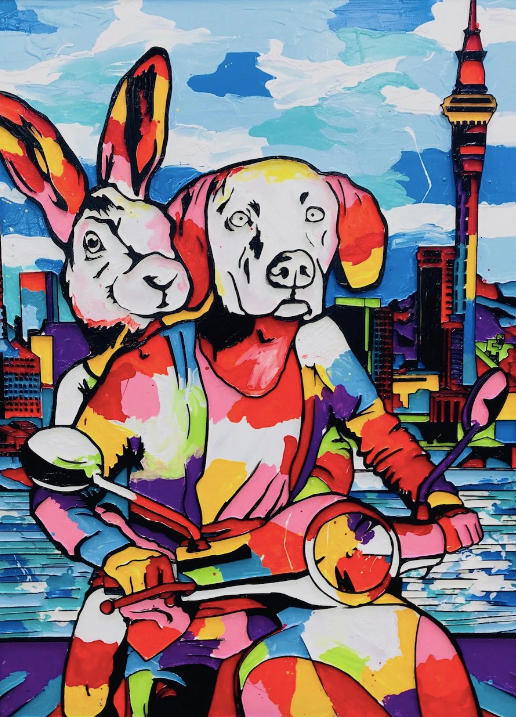 About the Artist
Gillie and Marc
International artists Gillie and Marc are renowned for their public sculpture and beloved characters, Rabbitwoman and Dogman, who tell the autobiographical tale of opposites coming together.
"Gillie and Marc believe art is a powerful platform for change. Their art is multi-disciplinary, paying homage to the importance of togetherness and the natural world."
See more works by Gillie and Marc